Introduction
In today's fast-paced world, managing schedules and appointments can be a challenging task.
Fortunately, there are numerous online scheduling tools available that can simplify this process. One such tool that has gained popularity is Tidycal.
In this article, we will explore Tidycal Reviews in detail, discussing its features, benefits, pricing, and how it compares to its competitors. Additionally, we will delve into customer reviews to gain insights into the user experience.
What is Tidycal?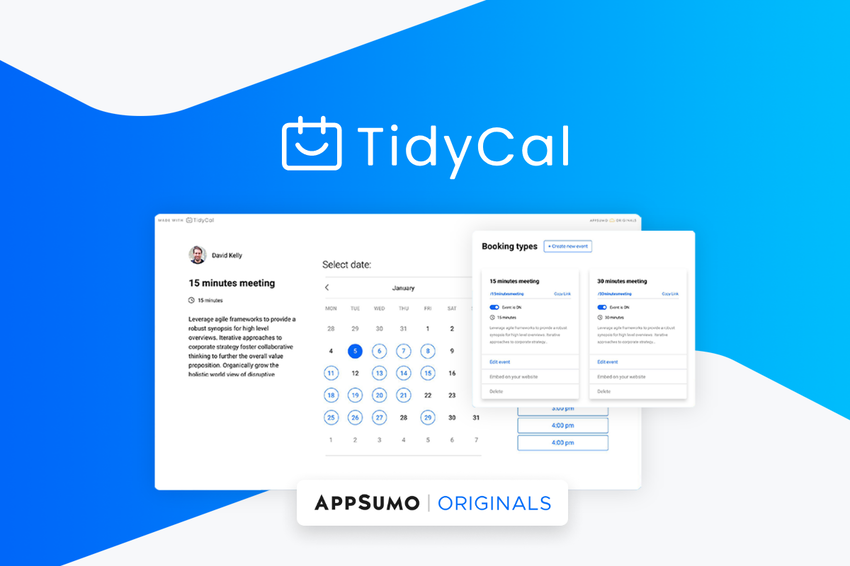 Tidycal is a user-friendly online scheduling tool made to make arranging appointments and managing calendars easier. It provides an intuitive user interface that makes it simple for people and organizations to set up, share, and manage their calendars.
Tidycal offers a hassle-free solution whether you're a professional seeking to arrange business appointments or an individual trying to plan personal gatherings.
Key Features of Tidycal
Tidycal offers a range of features that enhance the scheduling experience. Some of its key features include:
1. Easy Appointment Booking
Tidycal allows users to set up customizable booking pages where clients or attendees can easily schedule appointments based on their availability.
This feature eliminates the back-and-forth communication typically involved in scheduling and saves time for both parties.
2. Calendar Integration
Integrating Tidycal with popular calendar applications such as Google Calendar or Outlook enables users to sync their schedules seamlessly.
This ensures that all appointments and events are synchronized across different platforms, reducing the risk of double bookings or missed appointments.
3. Automated Reminders
Tidycal sends automated reminders to both the scheduler and the participants, reducing the chances of missed appointments. Users can customize the content and timing of these reminders to ensure everyone is well-informed and prepared.
4. Payment Processing
For businesses offering paid services or appointments, Tidycal provides built-in payment processing capabilities. This feature allows clients to make secure payments at the time of booking, streamlining the payment process and improving cash flow.
TidyCal Review Video Overview
Benefits of Using Tidycal
Using Tidycal offers several advantages, including:
1. Time Efficiency
Tidycal helps both organizations and individuals save time by automating the appointment booking procedure. By doing away with manual scheduling, it lightens administrative workloads and frees users to concentrate on more important areas of their jobs.
2. Improved Customer Experience
Tidycal's user-friendly interface and seamless booking experience enhance customer satisfaction. Clients can easily find available time slots, book appointments, and receive reminders, resulting in a positive customer experience and increased loyalty.
3. Enhanced Organization
With Tidycal, users can keep their schedules and appointments organized in one central location. The ability to sync calendars and access them from multiple devices ensures that users stay on top of their commitments and avoid scheduling conflicts.
How to Use Tidycal
Using Tidycal is simple and straightforward. Follow these steps to get started:
Sign up for a Tidycal account on their website.
Set up your calendar by customizing your availability,
services, and preferences.
Share your unique booking page link with clients or attendees.
Participants can visit the booking page, select a suitable time slot, and provide any necessary details.
Tidycal will automatically update your calendar and send confirmation and reminder notifications to all parties involved.
Tidycal Pricing
Tidycal offers different pricing plans to cater to various needs. They have a free plan with basic features for individuals and small businesses. They also offer premium plans with advanced functionality and additional customization options at affordable monthly or yearly subscriptions.
Tidycal vs Calendly
TidyCall Vs Calendly who is BEST?
Tidycal distinguishes itself from its rivals thanks to its user-friendly layout, seamless connection with well-known calendar software, and extensive feature set.
It appeals to both consumers and small enterprises due to its price and simplicity. To choose the right tool for your purposes, it's crucial to examine several scheduling tools and take into account your unique requirements.
Customer Reviews
Customer reviews provide valuable insights into the real-world experiences of Tidycal users. Here are a few testimonials from satisfied customers:
"Tidycal has revolutionized the way I manage appointments. It's so easy to use, and my clients love the convenience of booking online."

– Sarah, Yoga Instructor
"I've tried several scheduling tools, but Tidycal is by far the best. The calendar integration and automated reminders have saved me so much time and effort."

– Mark, Consultant
Conclusion
Tidycal is a powerful online scheduling tool that offers a user-friendly experience, time-saving features, and enhanced organization.
Whether you're an individual looking to manage personal appointments or a business wanting to streamline client bookings, Tidycal provides a convenient solution.
With its range of features, affordable pricing, and positive customer reviews, Tidycal is definitely worth considering for all your scheduling needs.
---
Frequently Asked Questions (FAQs)
Can Tidycal be used for group bookings or events?
Yes, Tidycal supports group bookings and events. You can customize your availability and set the maximum number of participants per time slot.
Is Tidycal suitable for businesses with multiple staff members?
Absolutely! Tidycal offers team collaboration features, allowing businesses to manage schedules for multiple staff members and share calendars across the organization.
Can I integrate Tidycal with my website or social media platforms?
Yes, Tidycal provides integration options for websites and popular social media platforms. You can embed your booking page or share direct links to facilitate easy scheduling.
Is Tidycal secure and reliable?
Tidycal takes data security seriously and ensures that all user information is protected. They use industry-standard encryption protocols and follow best practices to keep your data safe.
Can I cancel or reschedule appointments using Tidycal?
Yes, Tidycal allows users to cancel or reschedule appointments. You can set up cancellation and rescheduling policies, which participants can follow when making changes to their bookings.